Design Your Business Journey, Start to Exit, with the System.
Bright Business System is an ongoing business growth framework — What's included in Bright Business System? A Proven Method, an Intensive Business Accelerator, an Engaging Mastermind Group, and a Curated Network of B2B Professionals — Why Enroll?  Avoid Failure, Gain Traction, Pivot, Scale, and Manifest Your Purpose.
Uncover the Power of Bright Business System
Hear from local entrepreneurs about their experiences and insights:

The Bright Business Model is a fabulous series of classes for the business novice and professional. Encourages critical thinking in an open forum combined with lecture. Florin is an excellent instructor and has a track record of setting businesses on the course to success. This class is great for discovering your purpose, for those struggling with their business, or those who are just getting started. Good for trouble shooting and diagnosing strengths and weaknesses in your business and what steps to take to overcome business and mindset challenges to ensure success. I'm sad this class has ended- we all became close and I wish Florin and his wife bountiful blessings on the road ahead. — Dawn Schultz
Join a Bright Business Accelerator or Incubator
What do you get when you join a Bright Business Accelerator?
Why Bright Business System
Bright Business System stands apart from random workshops by providing a structured approach. Our proven methodology, delivered through Business Accelerators and Accountability/Mastermind Groups, empowers members with the tools and support to avoid failure and thrive in their growth journey.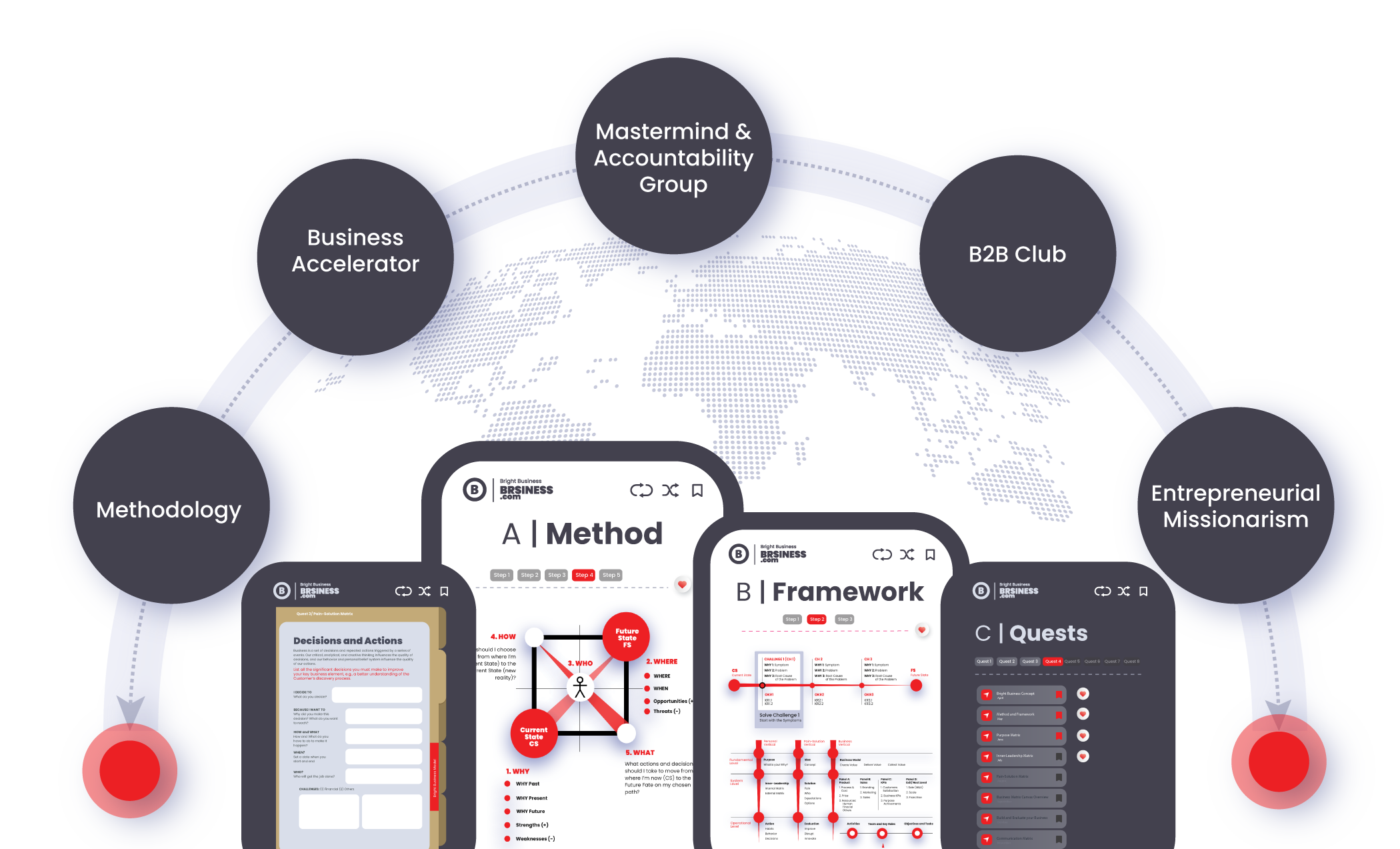 Workbook. Method. Accelerator. Mastermind Group
Spin Your Purpose-Driven Idea Into a Scalable Business with a Rigorous and Proven Framework and a Community of Bright Entrepreneurs.
The System Is Designed For
Achieve your business goals with our system's tools and guidance. We empower both new and existing businesses with practical strategies, mindset shifts, and the support needed to control the business journey from the start to the exit.
Support a Bright Business Accelerator to elevate your brand, reduce customer acquisition costs (CAC), and enhance customer lifetime value (CLTV). Contact us to explore how we can showcase your expertise and connect with prospects effectively.
Launch a Community Bright Business Accelerator and/or Incubator to support local entrepreneurs. Drive economic development and empower local visionaries to create positive change in the community.

Control Your Business Journey from Idea to Exit with Our System
Say goodbye to all your DIY business improvement tips and tricks, on-demand video tutorials, and random workshops. Whether starting a new business venture, pivoting, or scaling, being part of a live interactive business ecosystem and a purpose-driven community is a game changer. Now you have the tools to generate traction and attract quality stakeholders. We help you control the business journey, build confidence, and stay accountable.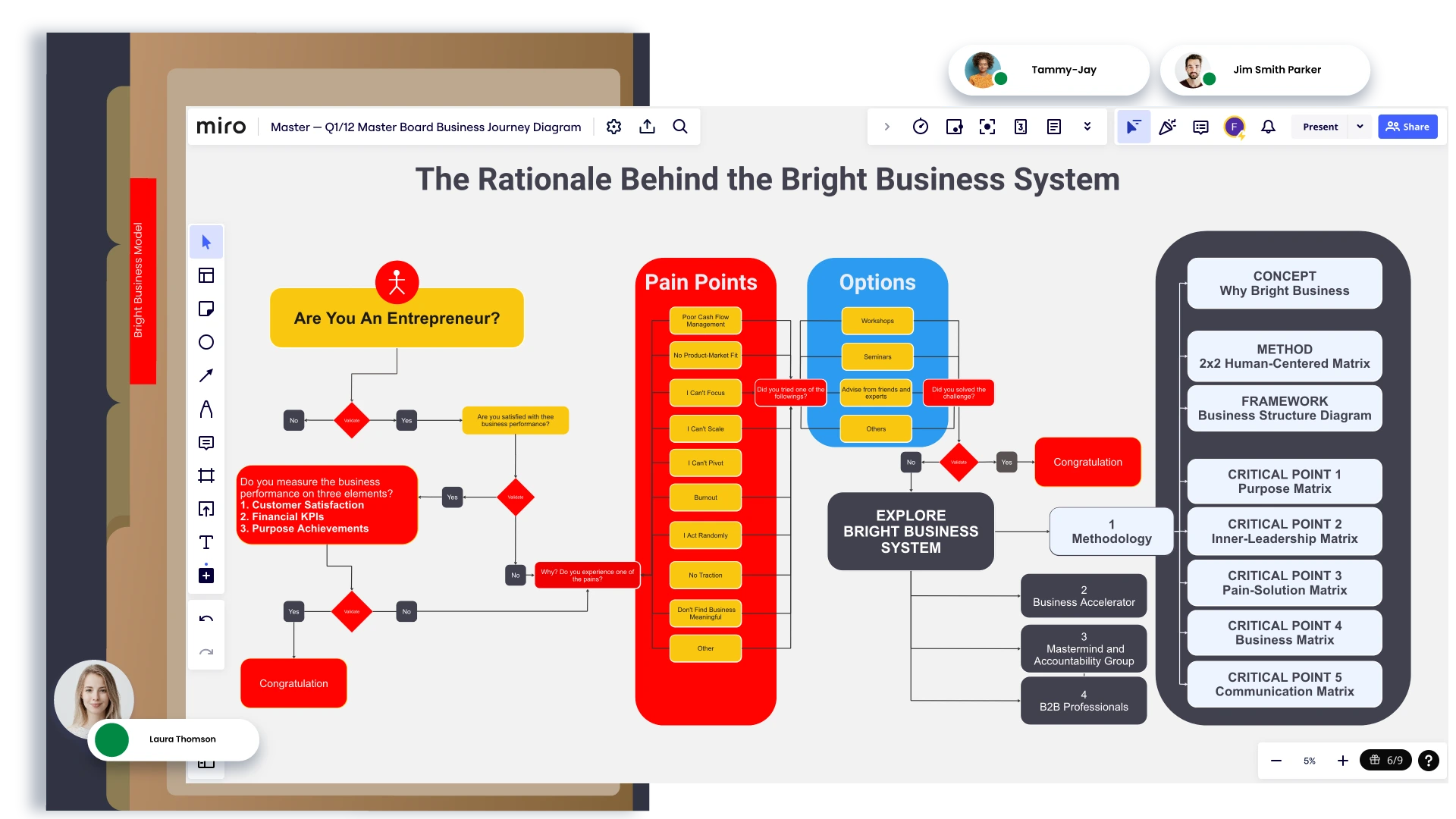 Crafting a thriving business requires mapping the business journey and implementing an adaptable system, all while continuously learning and enhancing. This hinges on consistent training and a strong accountability program — Choose to expedite your business growth or adopt a gradual scaling approach—the choice is yours.
Joining the System is as easy as 1-2-3.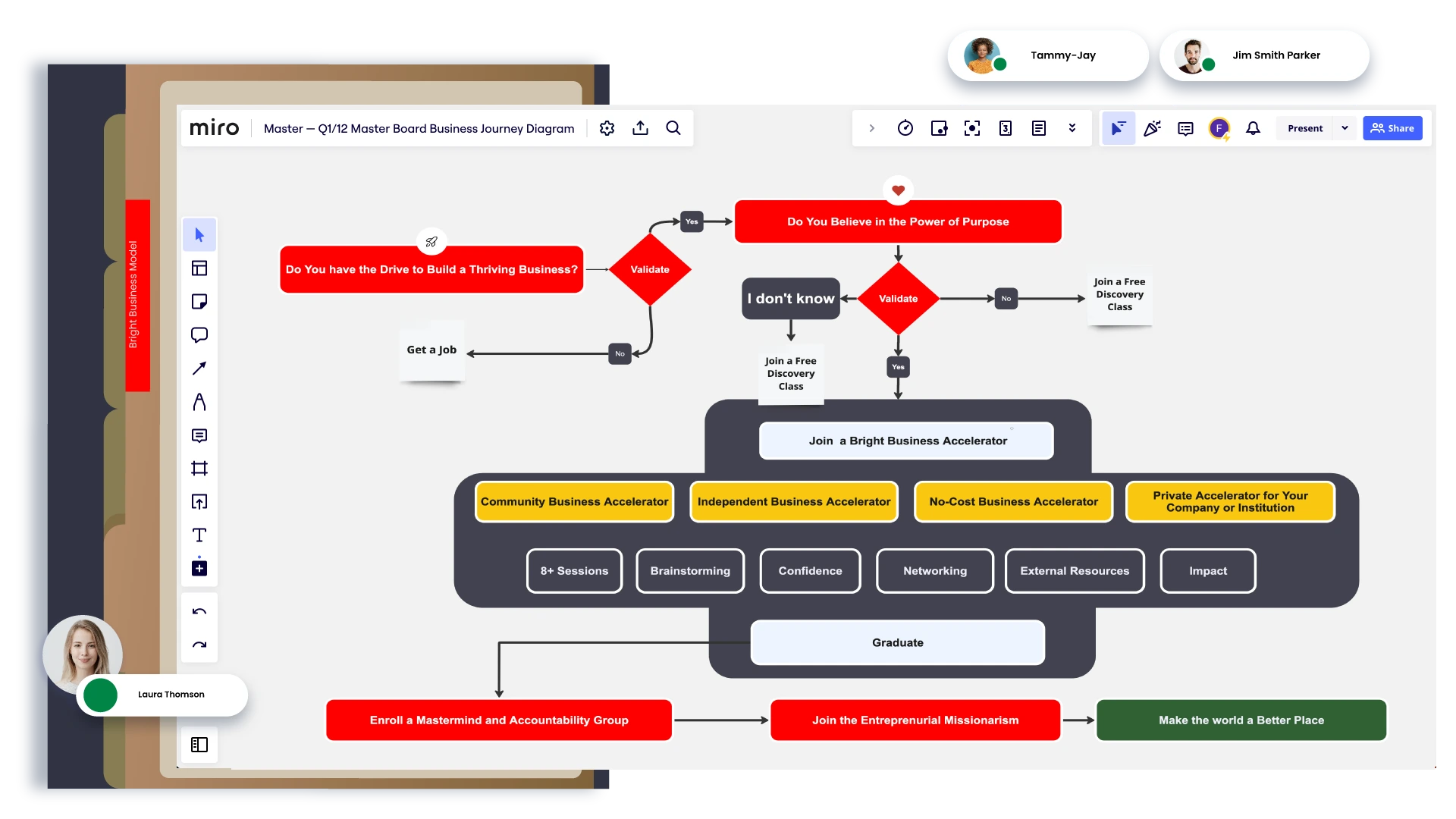 You're wasting resources, feeling stuck or overwhelmed, or need to stay focused.
When you needs a framework to generate traction and build confidence for rapid scaling, pivoting, or a successful exit.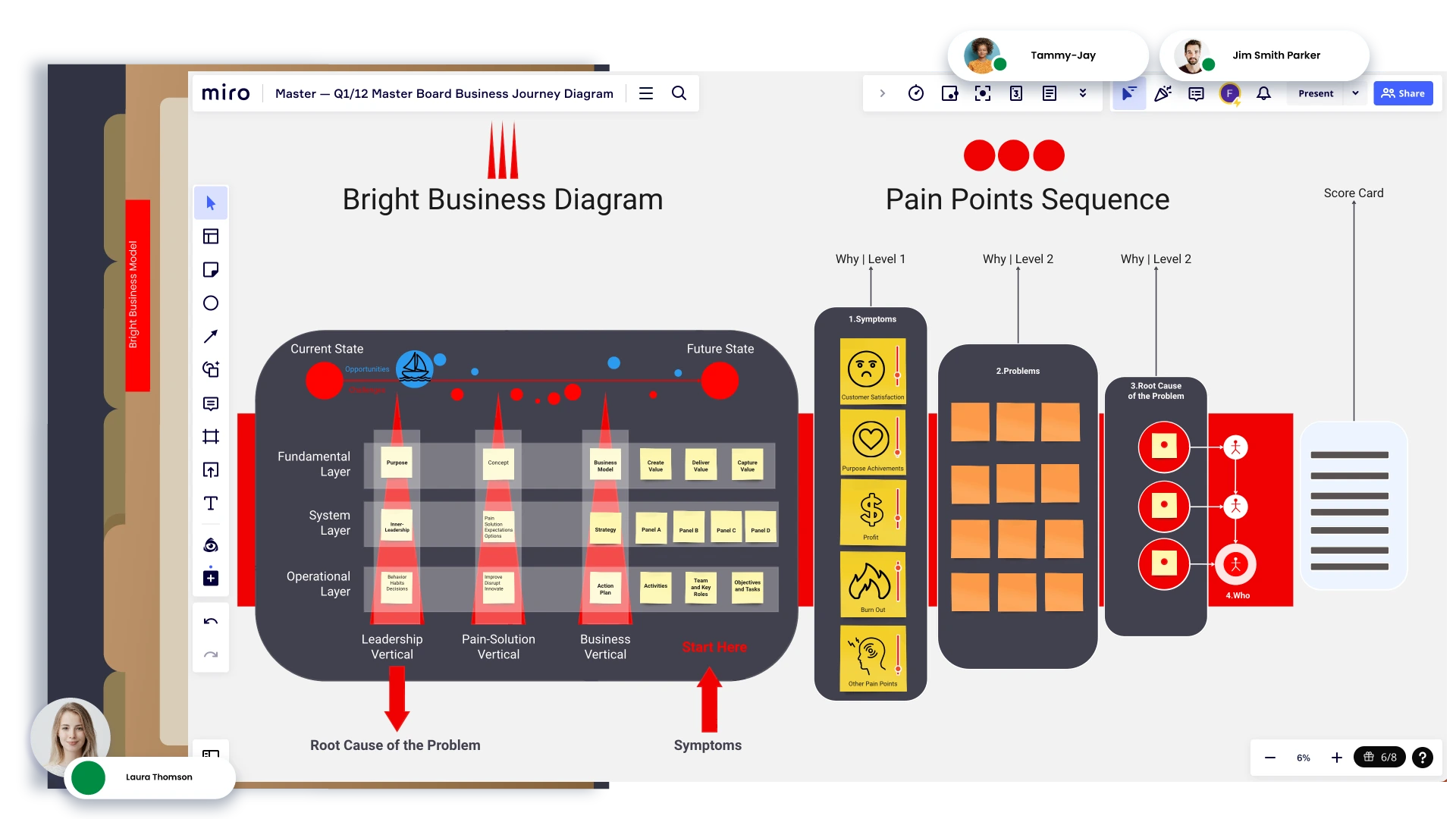 I'm the creator of the Bright Business Model, on a journey to elevate businesses' behavior from profit to purpose.
I bring order and harmony to the chaotic landscape of small businesses. My passion lies in helping individuals become more efficient, organized, and value-driven, with a strong emphasis on optimizing time and energy.
Ready to shake things up? The Bright Business Model is your ticket to transforming your business from ordinary to extraordinary. Packed with brilliant strategies, it propels you towards unstoppable growth and positive change. Say goodbye to the mundane and embrace a business that rocks the world.
I bring you the innovative 2×2 Human-Centered Matrix Thinking (2×2 HCMT). This system unleashes your creativity, revolutionizing the way you plan and structure your business. It's not just about success; it's about reclaiming your personal freedom and living life on your terms.
I'm here to be your accountability partner, providing the clarity and focus you need to conquer a business challenge.
Being a founder or leader can be a lonely journey. That's why I offer my support as a neutral sounding board, helping you flesh out ideas and conquer obstacles. Together, we'll create a legacy that leaves a lasting impact.
I thrive on connecting with fellow visionaries, small businesses, founders, and intrapreneurs. No matter your business needs, I'm here to rock your world and help you unleash your true potential.
Get ready to challenge the existing status quo!
I would recommend Florin Diumea and his Bright Business Methodology to all entrepreneurs, new and established. The program should be taught in a 12-month business and graduate school program. It was easy and fun to follow. The instructor Florin Diumea is extremely passionate about helping entrepreneurs grow and take their businesses to the next level. Focus on the right areas of their business and work "on" their business for a thriving future instead of continuing to work "in" their business where they may be merely surviving.
My experience through this program has been great. There was a lot of great and helpful information that was shared to help me improve my small business. Florin Diumea has been a great instructor who has helped me better understand how to improve the structure of my business. I would strongly recommend the Bright Business Model.
Bright Business Wildomar, Program in Partnership with the City of Wildomar
Explore How Bright Business Program Can Help Local Businesses Thrive In The Community​
What Bright Business Wildomar, CA graduates say about the program.
Join a community of purpose-driven entrepreneurs today