Discovery Class, January 17, 2022
Bright Business Riverside
No-Cost 2-Month Business Accelerator
Join the Discovery Class and Explore How Bright Business Riverside, a No-Cost 2-Month Business Accelerator Program, Can Help You Strategize Your Business Growth Journey.
In partnership with the City of Riverside
A big Thank You to Florin Diumea for his wisdom and guidance in critical thinking in entrepreneurship as well as life. His very important methods are truly a game changer to navigate through every aspect of your life. Check out Bright Business Model and see for yourself what a difference it can make for you.
Key Details -
Bright Business Riverside
Calendar -
Bright Business Riverside
Design Your Business Journey
Business Accelerator for Purpose-Driven Founders
Spin Your Purpose-Driven Idea Into a Fundable Startup and the Startup into a Scalable Business with a Rigorous and Proven Framework.
Why Bright Business Program
Unlike other business improvement and coaching programs that are limited to a specific topic or are randomly delivered, Bright Business Program is a coherent and comprehensive framework — We have a Concept, a Method, a Process, and Topics (Business Components) will work on improving.
Bright Business Wildomar, Program in Partnership with the City of Wildomar
Explore How Bright Business Program Can Help Local Businesses Thrive In The Community​
What Bright Business Wildomar, CA graduates say about the program.
4-Month Program, Six Bi-Monthly Classes, and Graduation Event.​
How to position the Purpose at the core of the business model.
Why Bright Entrepreneurs matter.
How to Build your Inner-Leadership Manual using the Inner and External Matrices.
How to Validate your Idea, Concept, and Customers before you craft a Purpose-Centered Product.
How to design a Sequential Decision Spiral that captures the entire journey from the Current State to the Future State to the End of the Journey (Final Exit).
How to build a Business System that generates a series of Accountable (SMART) and Executable Action Plans.
THE JOURNEY: The Program is structured into four sections (journeys): 1. Bright Entrepreneur→ 2. Bright Leader→ 3. Solution→ 4. Bright Business Model. Step-by-step, we'll set the OKRs (Objectives and Key Results), build an Accountable Action Plan, and measure the results.
THE METHOD: We use the 2×2 Thinking Matrix's power to understand and control the geometry of the entire business model.
TOPICS: The program has four big topics or matrices: Purpose Matrix, Inner-Leadership Matrix, Solution Matrix, and Business Matrix. We'll approach each topic of the journey using critical, analytical, creative, and visual thinking to frame the Challenge (WHY), find the most efficient Solution (WHAT), and craft a Method/Algorithm (HOW) to generate the most effective Action Plan. We design a sequence of decisions and actions that move you from the Current State to the Future State with minimum resources in a limited amount of time.
Individuals looking to start a new purpose-centered business for the modern world.
Small businesses who choose to adapt their current business model to unpredictable economic changes.
Bright Marketers wanting to reframe how to present their products or services from an ethical/responsible perspective.
Leaders looking to develop more purpose-driven, responsible, and creative teams and organizations.
Managers who want to sharpen their thinking and add a purpose before the profit to their growth strategy.
Step 1 – You'll write your Purpose—Mission, Vision, and Values. You'll frame the "Why" behind the business actions and build the most valuable marketing asset: TRUST.
Step 2 – You'll write your Inner and External Matrix to understand (1) The connectivity between being and having more (2) How to control sources of influence and how to be a valuable resource.

Step 3 – You'll validate your existing product or concept. You'll craft a perfect value proposition.
Step 4 – You'll build and control the Business Matrix using a the "2×2 Design Thinking Matrix" and Archery Metaphor to build and execute a Master Action Plan. Business Matrix is structured in four panels:
Panel 1: Product- (1) How to create and offer value (2) How to price and monetize/collect value (3) How to attract resources HR/Financial
Panel 2: Sales – (1) How to brand your product (2) How to market your product (3) How to sell your product.
Panel 3: KPIs – (1) Measure Customer Satisfaction (2) Measure your business performance (3) Measure your personal satisfaction.
Panel 4: Next Level or Exit – (1) Scale (2) Sell (3) Franchise.
Control Your Business Journey from Idea to Exit
Say goodbye to all your DIY business improvement tips and tricks, on-demand video tutorials, and fancy seminars. Whether you're starting a new business venture, pivoting, or scaling, being part of a live interactive business program and a purpose-driven community is a game changer. Now you have the tools to generate traction, attract quality stakeholders, and investors — you understand the business journey, you are confident, and accountable.
With economic dynamics changing faster, being part of ongoing business improvement training is vital for founders to control business growth.
One Program. Many options to grow.
Why do you need an ongoing business improvement program? To build a thriving business, you need to define the business journey and the system and constantly learn and improve. This can be achieved only through ongoing training. In our ongoing business program, you can opt to accelerate your business growth or have an easy learning curve. The choice is yours. 
Before starting a business, you should join Bright Business Program to design your business journey. You should join when you are wasting resources, get lost and overwhelmed, or need to stay focused. We're here when you have the drive and confidence to scale fast.
Hi, I'm Florin Diumea (FD)
I'm a veteran entrepreneur and creator of the Bright Business Model and 2×2 Design Thinking Matrix.
The Bright Business Model is packed with intelligent business improvement strategies that enable you to transform your business from simply operating into a thriving, growing, positive force of change. 
The 2×2 Design Thinking Matrix (2×2 DTM) is a system of visually creative thinking models. 

The 2×2 Design Thinking Matrix (2×2 DTM) enables planning business structure, leaving you with more personal time, energy, and freedom to live the business life you deserve.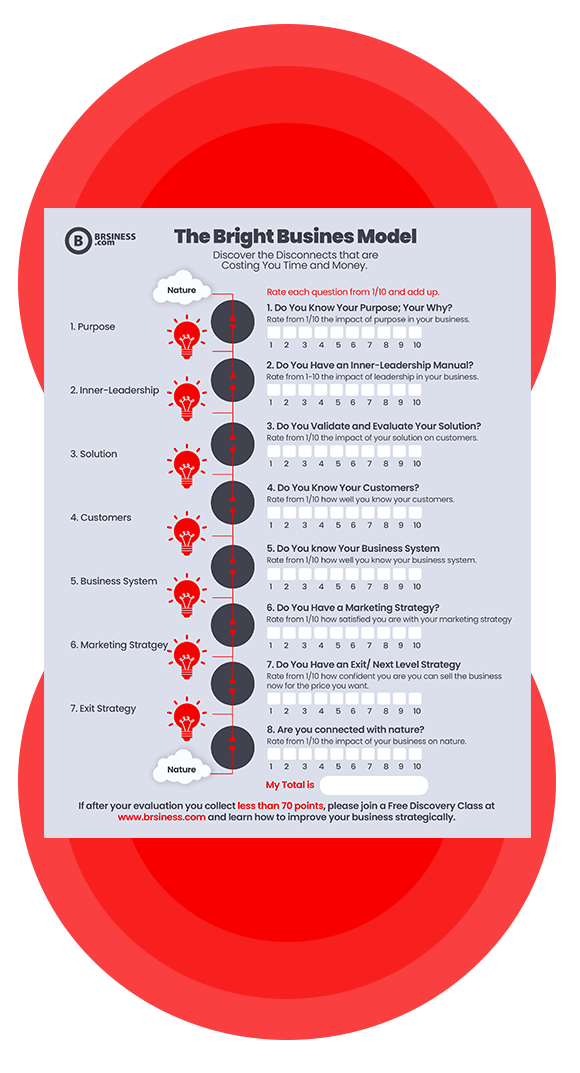 Over 90% of business fail because
business elements are disconnected
Download Free
8 Business
Disconnects Quiz
to Discover Your Business Pain Points
Learn how to Bridge your knowledge gap now and own your business evolution
Learn How to Build a Purpose-Driven Business, Exponentially Increase the Value of the Business, and Live a Meaningful Life Without Random Actions
The next start date is July 12th.