The next cohort will start on September 5th, 2023
Bright Business Riverside 2
In partnership with the City of Riverside
No-Cost 4-Month Business Accelerator
Improve your business performance with Bright Business Riverside 2, a transformative 4-Month Community Business Accelerator. Strategically map your growth journey.
Why you should join the Community Business Accelerator — Bright Business Riverside
Bright Business Riverside 2 — Orientation Class
Join us for an exciting in-person event, the Bright Business Riverside — Orientation Class! Get ready to dive into the world of business and unlock your potential. On Tue, Sep 05, 2023, at 09:00 am, we will kick off the 4-Month Business Accelerator (8 classes/quests) at the Main Library Riverside, 3900 Mission Inn Avenue, Riverside, CA 92501.
During the Orientation Class, you will explore the secrets of successful entrepreneurship, learn innovative strategies, and gain valuable insights from industry experts. Whether you're a budding entrepreneur or an established business owner, this event is designed to help you thrive.
Discover new opportunities, network with like-minded individuals, and immerse yourself in a dynamic learning environment. Don't miss this chance to take your business to new heights! Join us in shaping a brighter business future! #BrightBusinessRiverside
Hear from local entrepreneurs about their experiences and insights:
The Bright Business Model is a fabulous series of classes for the business novice and professional. Encourages critical thinking in an open forum combined with lecture. Florin is an excellent instructor and has a track record of setting businesses on the course to success. This class is great for discovering your purpose, for those struggling with their business, or those who are just getting started. Good for trouble shooting and diagnosing strengths and weaknesses in your business and what steps to take to overcome business and mindset challenges to ensure success. I'm sad this class has ended- we all became close and I wish Florin and his wife bountiful blessings on the road ahead. — Dawn Schultz
Bright Business Riverside 2 — FAQ
Key Details -
Bright Business Riverside
Riverside Main Library: 3900 Mission Inn Avenue, Riverside, CA 92501
Calendar -
Bright Business Riverside
Design Your Business Journey
Download the eWorkbook and enroll now for an 4-Month  In-Person No-Cost Business Accelerator: 09.05 – 12.12.  Don't miss this opportunity to strategize your business journey!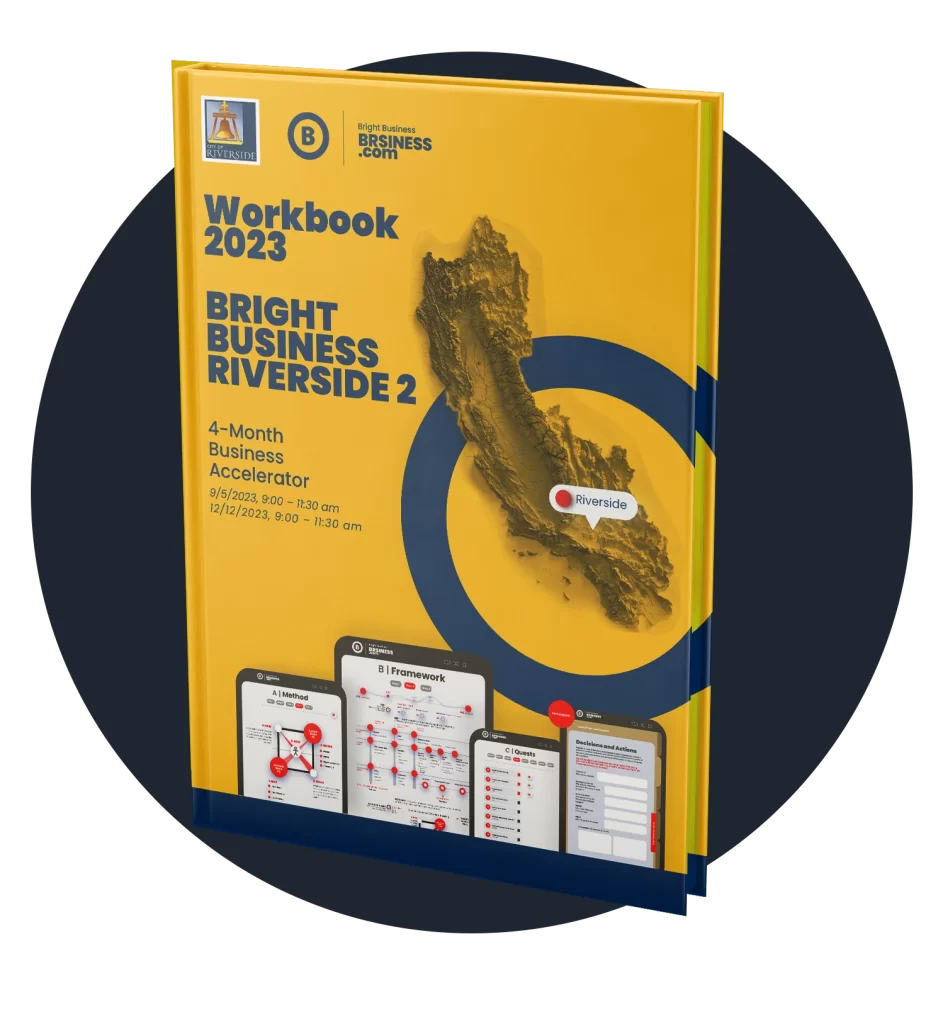 Business Accelerator Quests
8 Hands-on Classes or Quests
Tangible tools to help you build a winning purpose-driven business
+ build a community of bright entrepreneurs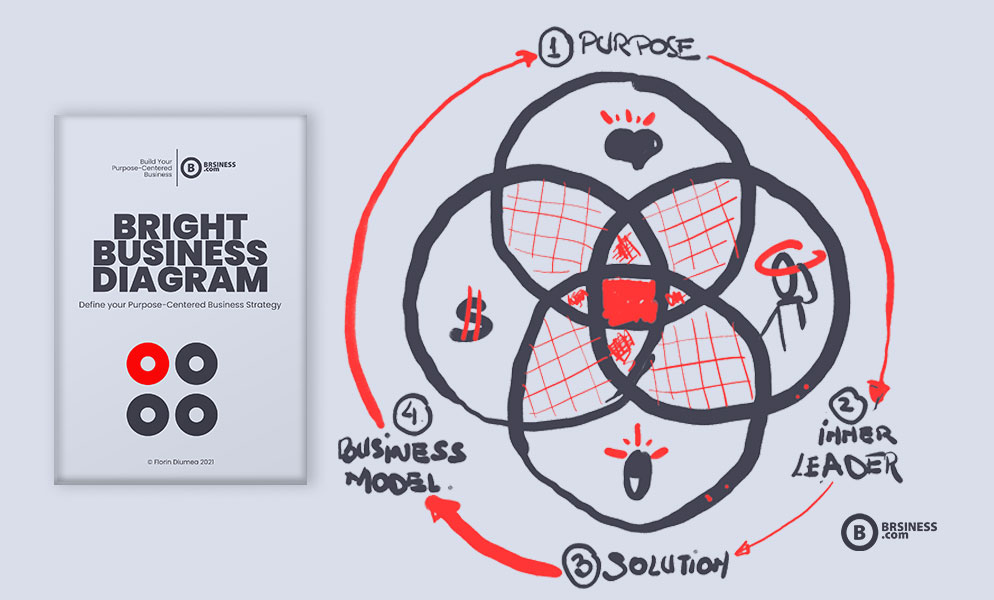 What is a Bright Business?
What do you and your business stand up for? Elevate your mindset and position your Purpose at the core of the business. Use the Bright Business Model: Purpose → Business → People → Environment → Profit →  Meaningful Life.
Use the Power of Matrix to Control the Decision Flow
Business is a journey from the Current State to the Future State that requires decisions and actions aligned toward your goals. You'll use the power of the matrix to focus on what matters and build an accountable action plan.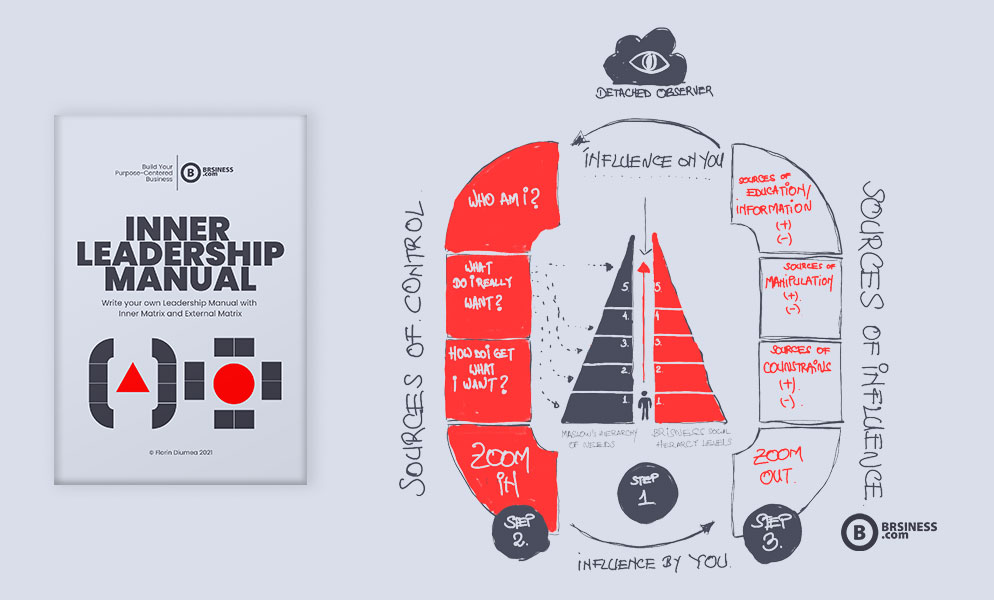 Our journey begins with finding and positioning your purpose at the core of your business model and communication strategy. We'll take a holistic approach, embracing the Principle of Oneness, delving into system thinking, and uncovering the practical and financial value that your purpose holds.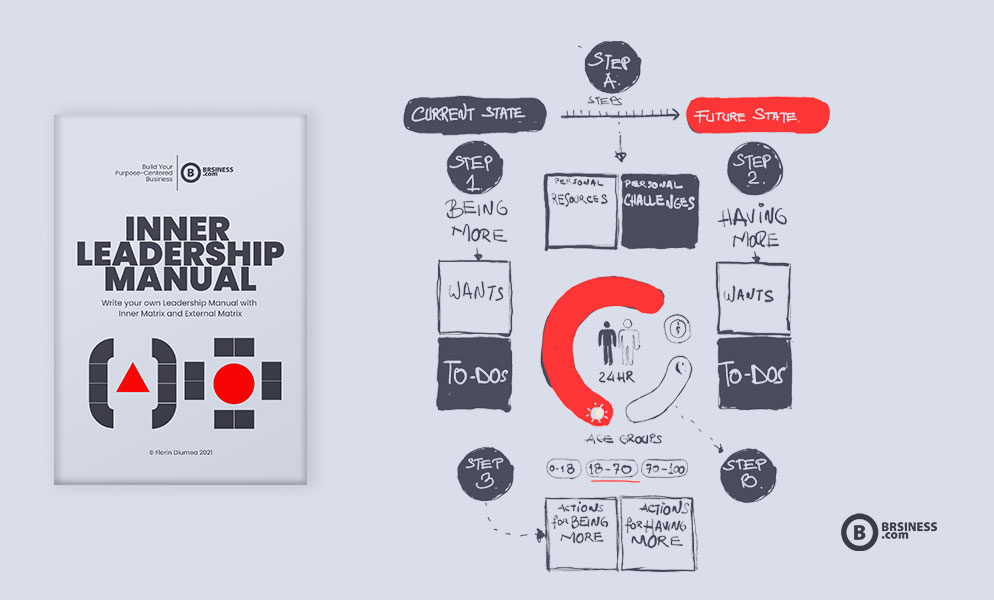 Write your
Leadership Manual
Businesses do not fail. Leaders do. Connect with your Inner-Leader. Understand and control the Inner Matrix, the environment (External Matrix), and build your Personal Belief System (PBS).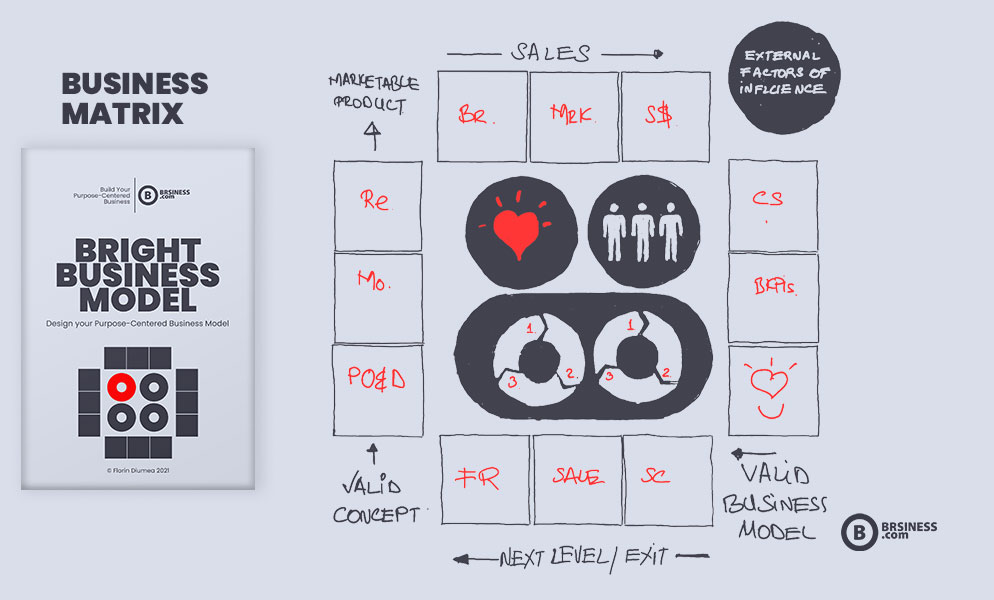 Design your Bright Business Model
Control your business components (Static Analysis). Understand and control the components' dynamics and the decision chain's impact (Dynamic Analysis).
Build Your Communication Strategy
Branding, Marketing, and Sales are part of the business communication strategy. You capture, transform, and offer data according to the customer's persona's behavior during and after the buying journey. Use the Lead Generation and Conversion Cycles to deliver the right message at the right time.

I'm the creator of the Bright Business System, on a journey to elevate businesses' behavior from profit to purpose.
I bring order and harmony to the chaotic landscape of small businesses. My passion lies in helping individuals become more efficient, organized, and value-driven, with a strong emphasis on optimizing time and energy.
Ready to shake things up? The Bright Business Model is your ticket to transforming your business from ordinary to extraordinary. Packed with brilliant strategies, it propels you towards unstoppable growth and positive change. Say goodbye to the mundane and embrace a business that rocks the world.
I bring you the innovative 2×2 Human-Centered Matrix Thinking (2×2 HCMT). This system unleashes your creativity, revolutionizing the way you plan and structure your business. It's not just about success; it's about reclaiming your personal freedom and living life on your terms.
I'm here to be your accountability partner, providing the clarity and focus you need to conquer a business challenge.
Being a founder or leader can be a lonely journey. That's why I offer my support as a neutral sounding board, helping you flesh out ideas and conquer obstacles. Together, we'll create a legacy that leaves a lasting impact.
I thrive on connecting with fellow visionaries, small businesses, founders, and intrapreneurs. No matter your business needs, I'm here to rock your world and help you unleash your true potential.
Get ready to challenge the existing status quo!
Join the Community Business Accelerator — Bright Business Riverside 2